When expanding the feature set of Auto Fire,  an important element was to finally make the overworld play more of a role in the game.  As a first step, the badlands now have roaming gangs that run convoys from place to place (having an agenda that will grow over time).  These clouds of dust have an unknown number of cars in them, and eventually they will hold a variety of characters within, including lone drivers, hit squads, innocent settlers and good ol' cargo convoys.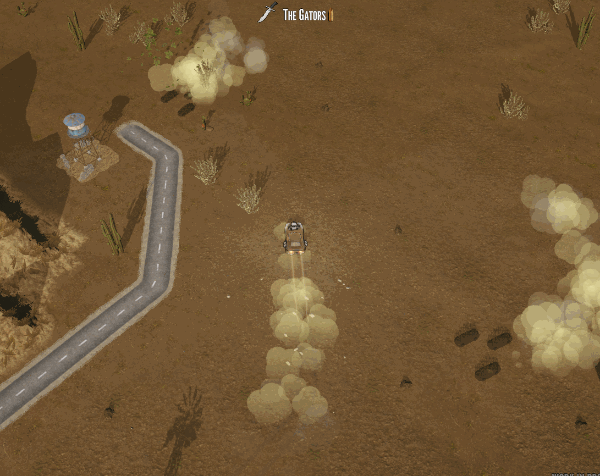 Each roaming enemy gang has a generated miniboss that runs it.  If they see you, they'll interrupt what they're doing and come after you.  If they reach you you'll be dragged into full combat with their crew… but if you take down the boss you'll earn yourself some extra fame.  Make sure you defeat them or they'll come back to haunt you…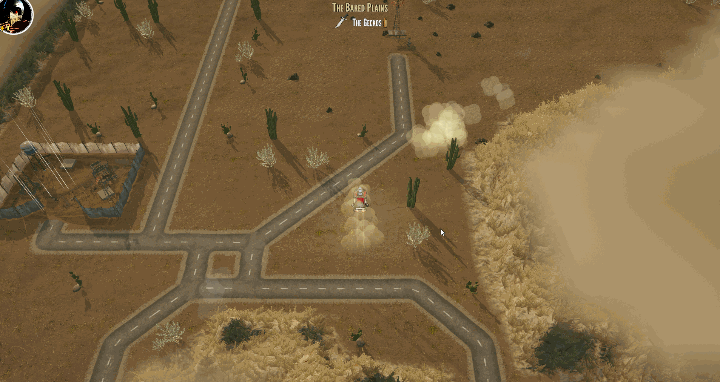 Some other changes with this build:
Overworld
Created overworld bosses (as described above). These roam the world using a FSM via the Unity Animator (unorthodox but seems to work fine).
Added a lot of infrastructure to make free bosses and track the player's kills in each faction.
Bosses now have a "spotted" shout that occurs both in the overworld and in combat.
Controls
Cleaned up the UI for weapon aiming.  The player can't accidentally advance the clock by targeting empty ground.
Buffer keystrokes now so that the player cannot target when the enemy is still in the middle of its move.  The result was a bunch of misses due to bad UI… Ugh it was driving me nuts! Fixed now, yay!
Combat
Revised the combat hit resolution from an older system, which was Diablo-like (and tended to create more misses and less impact due to bonuses), to one that is more of an opposed roll with positive and negative modifiers (more like D&D).  It creates a more distinct feel to good and bad weapons and situations.
The new equation:

Attack Rating (AR) = accruacy + gunnery
Defense Rating (DR) = rangeMult(1) * range + speedMult(2) * speedAboveOne + defenseVal
Bonus = paintBonus + sustainedBonus – targetingPenalty
Hit chance = 100% + (AR – DR + bonusMult(2) * bonus) * 10%

Junkthrower is more powerful, which makes the starting Stallion less terrible to use.
Turned down the difficulty of some boss encounters, since they were a brutal step above regular cars to fight.
Systems
Minor Unity and API upgrades.