Some great new updates to Auto Fire this month. The UI got another level up with some improved screens and a more lived-in look. You can now go to the citadel and help those people out, building renown with that city. Citadels are a little more solid in their representation also, with one of only a few corporations keeping control of the populace across the country. Finally, the visuals took an uptick with better lighting, new desert terrain visuals and cleaned up foliage. The time to check it out is now!
Content:
Sectors now have a renown level that gates new sector quests.
Tutorial also now uses renown sector quests.
Cleared up the skull rating and show it on the challenge tablet app.
Cleaned up factions signficantly. At campaign generation there are only four corporate factions, two military factions, one citizen and one duellist faction.
Set up each sector now with a consistent resident and enemy faction.
Changed enemy and sector definitions to be able to be controlled on a per sector basis, allowing for better channeling of content across the overworld maps.
Quests now have a clearer faction reward and renown award for sectors
Fixed up sector leader quest arcs. The player can eliminate an enemy entirely from the overworld of a sector.
Quests now have a goto step or a load cargo step.
Citadels:
Each citadel is run by one of the 4 corporations.
The mayor or citadel leader will dole out a quest for you, which gives you an opportunity to increase your sector renown
The player can now abandon cargo in a citadel and it will be returned to the quest list
The player can even abandon sector quest cargo and it is returned to the sector quest list.
Cargo cannot be returned for salvage profit unless it doesn't have a quest attached.
The player cannot accept a cargo quest unless they have room to haul it.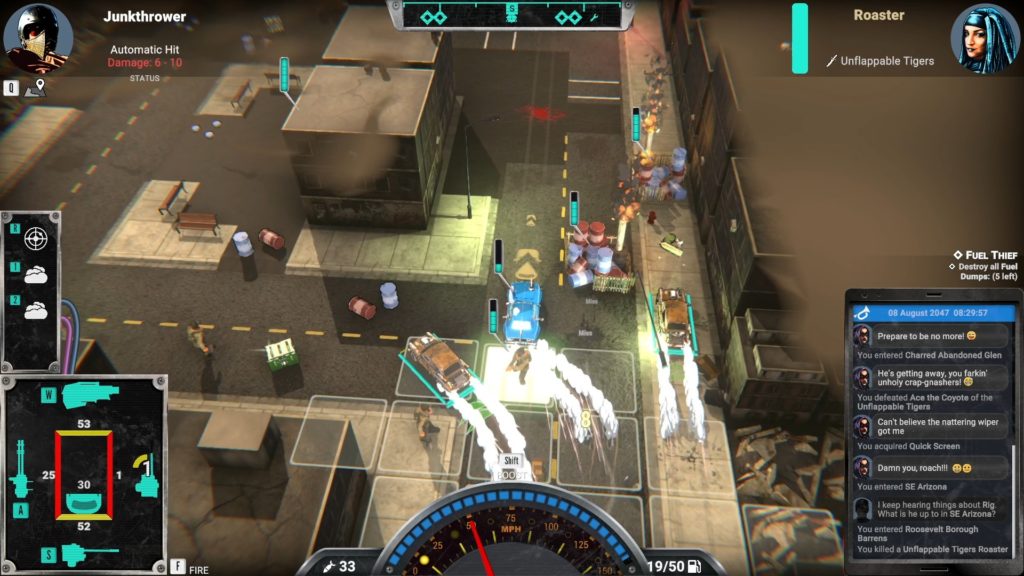 HUD:
Dashboard elements now have schmutz on their frames as well as the glass
Sped up zooms and added functionality to make any panel zoom, plus zooming recenters the view based on the visible portion of the screen.
Improved the Travel and reward tablet app visuals
New Challenge popup when entering a combat area
Fixed up the quote panel in the upper right.
Quest steps now read out as crossed out if completed in quest list
Menu:
Mayor feed in the citadel ticks out like the quest panels do.
Revised automap and travel panels to use the same look
Menus and screens also have some schmutz added for a bit more lived-in look
Added macros for if the player chooses the gender "they", so we can say "who [is] [he]?" as "who are they?"
Added a feed to the loading screen so we can have a colorful quote from the populace on the current situation.
Visuals/VFX:
Fixed up quality settings in the settings panel, as well as setting the default quality to high.
Revised all desert terrain textures to something a bit more stylized and cleaner (Deep Desert Pack asset)
Fixed up all terrains to properly display grass again (broken links abound)
Adjusted lighting to not overbright, and made sure all views use deferred lighting so that VFX lighting shows up more effectively.
Put dirt decals under shacks so as to make them a bit clearer as obstacles.
Zoom makes a whoosh sound
Bugs:
Fixed improperly LOD'ing models by a windmill
A courier quest to a combat area now can complete and the combat quest continues properly.
Fixed bug that if I killed the sector boss, the game would eventually crash
Boss camera on encounters now zoom into the proper target again.
Fixed several bad citizen tweets, some of which sounded extra dumb and others crashed the game(!)
Fixed crashes based on occasionally building battlegrounds.
Tech:
Adjusted night lighting settings (to be used in the future) for some experiements.
Updated to Unity 2020.3.33f